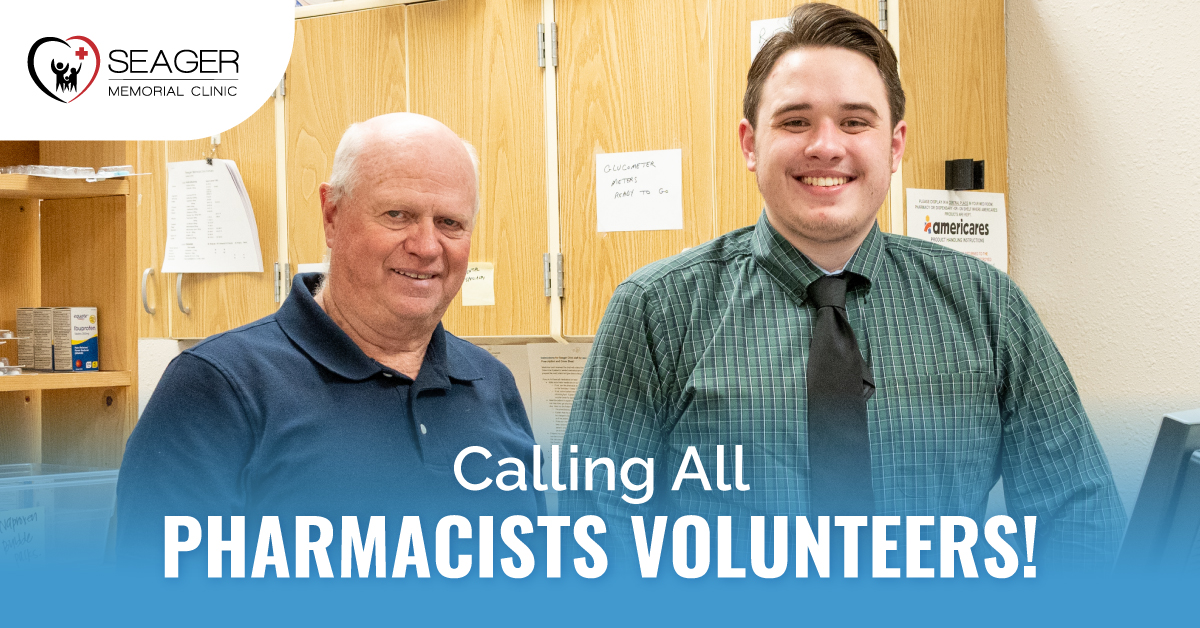 Calling All Pharmacists Volunteers!
Seager Memorial Clinic is a non-profit organization focused on helping members of our community overcome financial, social, mental health, and other significant barriers when looking for quality health care. Our clinic is run entirely by volunteers. Together, we have built a clinic that provides free, easy-access, and non-judgmental health care to the underserved.
We are always looking for people with various skill sets to maintain our friendly environment and serve as many patients as possible. Currently, we are in need of pharmacists to assist us in assuring that our patients are receiving the proper medication for their diagnoses. It is vital that each patient not only receives the best care while in our clinic but that they can continue to heal once they leave. As we treat more individuals each year with various physical and mental ailments, we need your help dispensing the proper medication and educating our patients on how to use them properly.
What Are Some of the Benefits I Can Get from Volunteering?
Volunteering at Seager Memorial Clinic is an excellent opportunity to build on your career resume and get to know other qualified medical professionals. If you own an independent practice, networking with the other doctors at the clinic may help you drive more business through referrals. Volunteering at a free health clinic can also allow you to help others heal without the regular nuisances that come with dealing with insurance companies.
Serving with Seager Memorial Clinic will provide you with a unique opportunity to help those most in need of your medical expertise. Several of our patients have spent an extended period of time with no access to valuable healthcare. Providing them with the proper prescriptions will significantly improve their quality of life and open countless doors, leading them to a brighter future.
Volunteer Today with Seager Clinic:
There is a place for everyone at Seager Clinic! We need all kinds of skill sets to accomplish our mission of improving the lives of the underserved. Our volunteers help us bridge that gap in our community so that we can make a real difference in the lives of each individual and family that comes in. We offer more than quality healthcare at Seager Clinic; we give our patients understanding and results so that they can build a better future. One of our volunteer physicians explains our volunteer work eloquently: "The Seager Clinic has provided hope for the hopeless, care for the uncared for, and the human touch for the untouchable. What an opportunity for those with no needs to interact with those with endless needs".
If you're interested in volunteering in any position, visit our website to fill out our new volunteer form. You can also email or call our Clinic Manager to discuss your hopes for volunteering and where you feel you will fit best. For more information about our services or how to help, donate, and volunteer, visit our website and sign up to volunteer at our clinic today! Follow us on our social media platforms and check out our website for upcoming events!