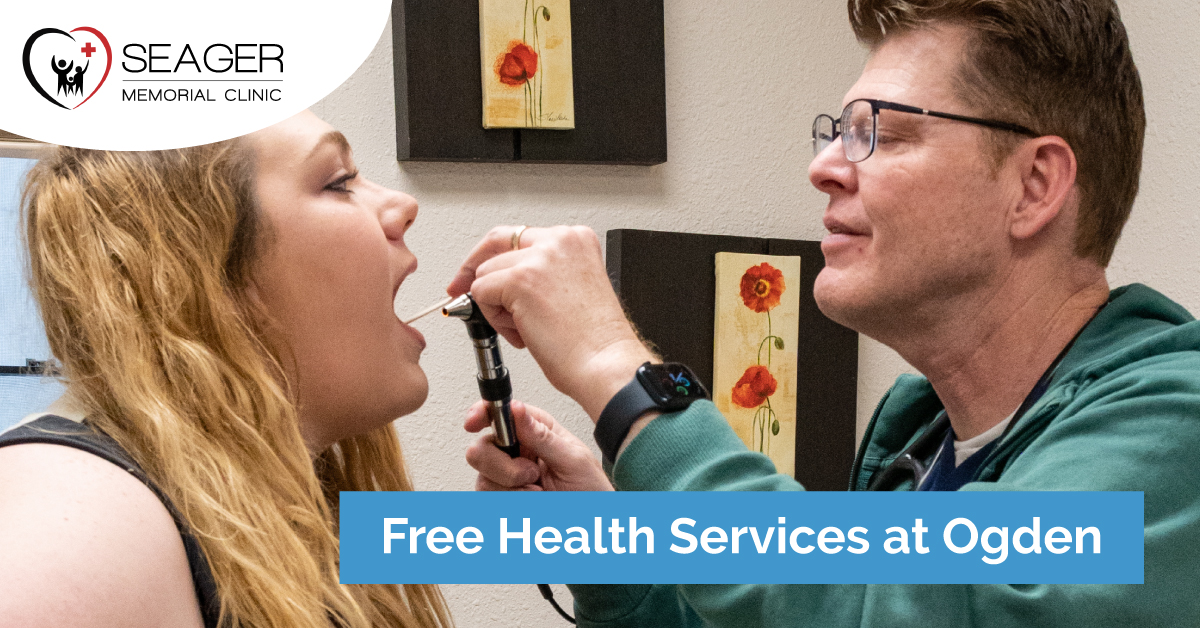 Find Access to High-Quality, Free Health Services at Seager Memorial Clinic
Are you looking for high-quality medical care this holiday season? Are you uninsured, underinsured, or can't afford medical or dental care? If so, then Seager Memorial Clinic is here to help you. Seager Clinic's mission is to provide free, easy-access, non-judgmental, charitable medical, dental, vision, and mental health care to the underserved By providing ongoing and free medical clinics, Seager Clinic gives individuals in need the opportunity to take care of themselves and their loved ones.
Background Information
In early 1988, Dr. Floyd Seager witnessed a man collapse on the street and rushed to his aid. When Dr. Seager learned that the man was homeless and had no access to medical care, he knew he needed to use his expertise to make a difference. With his wife, Dauna, and the Ogden Rescue Mission, the Seager Memorial Clinic became a reality. They created a space where experienced professionals and local residents could volunteer and offer a wide range of medical services, including free medical, dental, vision, and mental health care. Their free health center has grown to become a 501(c)(3) nonprofit with a volunteer force of over 170 volunteers. Seager Clinic will continue to expand to fulfill the Seager's mission of providing free, easy-access, non-judgmental, charitable medical, dental, vision, and mental health care to the underserved.
Current Free Health Services
Seager Memorial Clinic offers a wide range of medical and dental services available to all patients. The services offered include:
Physician/provider visits for both chronic and acute medical care
Dental clinics for fillings, extractions, and partial dentures
Eye clinics to receive custom prescription eyeglasses and diabetic retinopathy screenings
Mental health clinics to issue psychiatric medication and help with depression and anxiety management
Diabetes management, including free diabetic medication and supplies, routine blood work, retinopathy screenings, foot examinations and care, and patient educational handouts
Immunizations (including flu shots)
Lab work, as well as Covid-19 rapid antigen and saliva PCR testing
Diagnostic testing such as X-rays, MRIs, colonoscopies, etc. (through Intermountain Healthcare)
Cancer screenings
Community referrals to Midtown Community Health Center, Weber-Morgan Health Department, Utah Cancer Control Program, Weber Human Services, United Way's 2-1-1, etc.
Seager Clinic is open every Monday, Wednesday, and Friday from 3-5 PM at 2775 Wall Ave, Ogden, except for holidays. Appointments can be made via the sign-up sheet outside the entrance starting at 8 a.m. and are issued on a first-come, first-serve basis. All services are provided at no cost to patients. Eye clinics are held at 2775 Wall Ave, Ogden (enter from 24th street). Appointments are required; call 801-528-2396 and leave a message.
Monthly Schedule of Free Health Clinics
General Medical Clinics: Every Monday, Wednesday, and Friday from 3-5 p.m.
Diabetes Clinic: Every Wednesday from 3-5 p.m.
Mental Health Medication Clinic: Available on the 3rd or 4th Friday of every month from 3-5 p.m.
Dental Clinics: Available most Mondays. For dental and oral surgery clinics, patients must sign up at the Ogden Rescue Mission by 8 a.m. on the day of the desired appointment. Patients need to be back to the clinic by 2:30 p.m.
Eye Clinics: Held once or twice a month. Appointments can be made by visiting the front desk or calling 801-528-2396.
Case Management: Always available to help patients sign up for Medicaid or provide information to find housing, local food pantries, or childcare.
Medication Pick Up: Every Monday, Wednesday, and Friday from 3-5 p.m.
Immunizations: Flu shots are available during all open clinic hours. Other immunizations can be received through free vouchers from the Weber-Morgan Health Department during general medical or diabetes clinics.
Why Choose Seager Memorial Clinic?
Patient and staff testimonials attest to the significant positive impact Seager Clinic's free health services can have on the lives of our patients. Several individuals have described it as a "great experience" and "very good and caring and helpful." We help our patients find care for their acute and chronic conditions to assist them in avoiding compounding their health issues and helping them lead happier and healthier lives. Our free clinic makes a difference because our mission is to do everything we can to help and serve you at no cost to our patients. We will be your advocate for high-quality medical care at our free health center. If you have questions or would like to contact the Seager Memorial Clinic, please visit https://seagerclinic.org/.