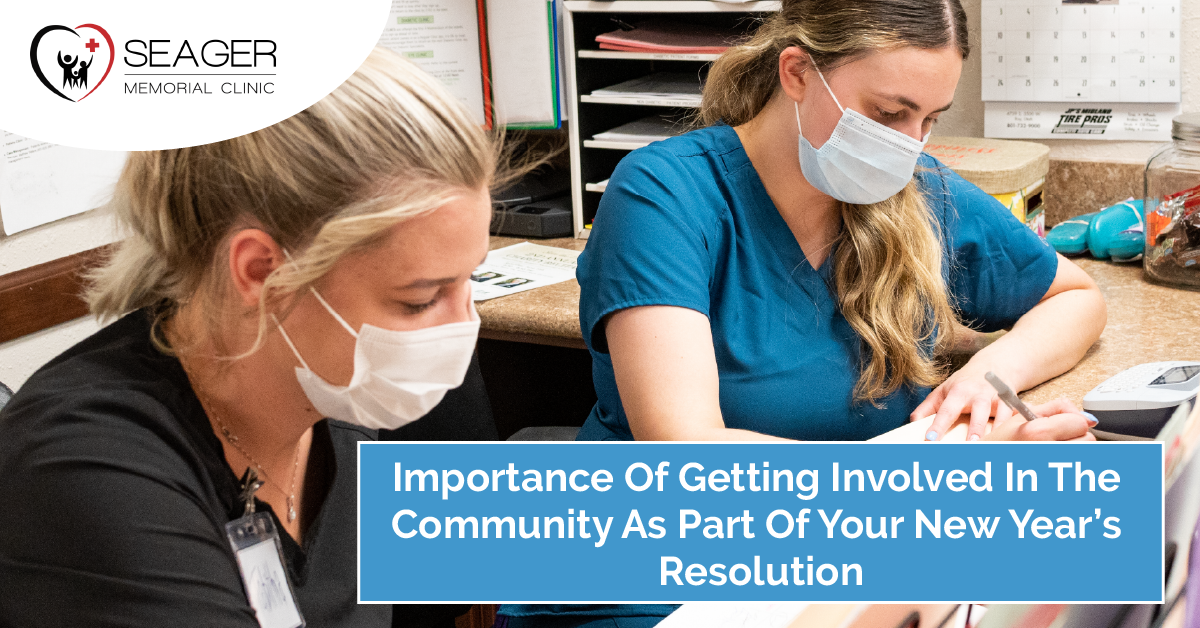 Get Involved in Your Community as Part of Your New Year's Resolutions
The beginning of the New Year is a time of change and reflection. Millions of people set New Year's resolutions to become healthier, spend their time in more meaningful ways, or make a difference of some kind. Ultimately, we all hope to become a better version of ourselves and to lead a more substantial life. What if we shifted our focus to include improving our community just as much as ourselves this year? Instead of working through the frustration of unmet objectives, Seager Memorial Clinic can help you set and achieve a goal that will keep you accountable and help improve your lifestyle: volunteer work. Volunteering is the catch-all of New Year's resolutions. It encompasses physical, mental, and change-oriented goals to accomplish everything you want in the upcoming year. Here at Seager Memorial, we are prepared to help you achieve your New Year's resolutions through volunteer work because we need people like you to make a difference.
Why Should I Volunteer at Seager Memorial?
Seager Memorial Clinic is a non-profit 501(c)(3) organization that runs entirely through voluntary work. Through the help of our amazing volunteers, we have built a clinic that provides free, easy-access, non-judgmental, and charitable health care to the underserved. For the upcoming year, we need the help of people like you to maintain our friendly environment and serve as many people as possible. Our medical and nonmedical volunteer positions include a variety of roles with various skill sets. Medical positions we are looking to fill include:
– Physicians
– Healthcare providers
– Dentists
– Pharmacists
– Pharmacy technicians
– Translators
All healthcare providers work to help assess our patients, provide appropriate treatment, refer to other medical professionals (if necessary), and offer free medications.
Non-medical volunteer roles include:
– Receptionists work with the MAs and RNs to pull and update patients' charts and provide answers to questions.
– Graphic designers to create visual aids to communicate with patients and potential volunteers.
– Grant writers to help research, draft, and submit proposals for grant funding.
There is a place for everyone at our free health clinic. We need skill sets of all kinds to contribute to our mission of improving the lives of the underserved. Medical and nonmedical volunteers help make a difference for every person who comes into our clinic. As Elizabeth Andrew, from the United States House of Representatives, wisely said, "Volunteers do not necessarily have the time; they just have the heart." Through the help of every volunteer, we can continue to make a positive change in our community one day at a time.
Also read: Find Access to High-Quality, Free Health Services at Seager Memorial Clinic
Why Choose to Volunteer at Seager Memorial?
Studies show volunteering will give you a greater sense of purpose and help you enhance other areas of your life. If you or someone you know is interested in volunteering for Seager Memorial Clinic, please visit https://seagerclinic.org/ to contact us.