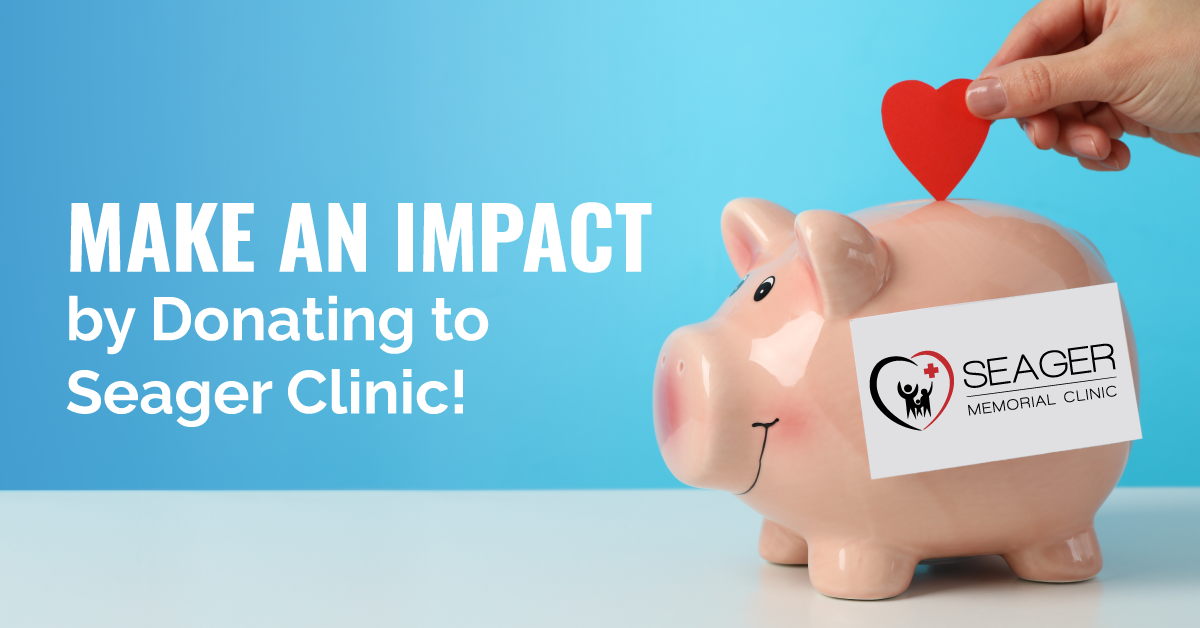 Make an Impact by Donating to Seager Clinic!
Our mission at Seager Clinic is to provide free, easy-access health care to those most in need of it. Because we offer our services at no cost to the patient, we need the help of generous community members like you to keep our mission going. For every donation of $69, one patient can be seen and treated at Seager Clinic, valued at over $200. These visits include an evaluation by a medical professional, treatment, and medication. Donations of all sizes can help improve the life quality of all our patients!
What are Donations Used For?
Every dollar donated goes right to the clinic to help support the needs of our patients. Funds are used to purchase medical equipment and supplies for treatment and exams, medications, immunizations, cleaning and sanitation supplies, and any office materials needed to keep the clinic running smoothly. Here is a brief summary to show how significantly any donation can impact our patients.
– $10 provides blood pressure medications for one patient for a month.
– $25 buys a flu shot for a patient.
– $50 buys a pair of custom prescription glasses.
– $69 covers the cost of one clinic visit.
– $75 provides five people with psychiatric medications for a month.
– $100 covers the cost of insulin, oral diabetes medications, test strips, and syringes for one patient for a month.
– $150 buys a Tdap shot for a patient.
– $200 gives a patient a pair of partial dentures.
Ways to Donate:
To make the process as easy as possible, we have set up various ways to donate to Seager Memorial Clinic. You can donate via our Amazon wish list, PayPal, Venmo, or check (please mail to Seager Memorial Clinic PO Box 150143 Ogden, UT 84415). For quick access to links and account information, please visit our website page https://seagerclinic.org/donate/.
All donations are tax deductible and we provide tax receipts if requested. Donations do not have to be monetary. We accept medication donations, but they must be unexpired and blister-packed or factory sealed. We also take socks, gloves, twin-sized blankets, and hygiene kits for our patients who may be experiencing homelessness.
How Can I Support if I am Unable to Donate?
If you are not currently able to help financially, there are other ways for you to help! Smith's grocery store will donate 0.5% of your Smith's purchases to Seager Clinic if you link your account to us online. Start by visiting www.smithsfoodanddrug.com/inspire and log into your Smith's Rewards account. Then, look up our organization number, YX153, to link your card to Seager Memorial Clinic.
Any and all donations make a difference in our clinic and to our patients. Choose to give a one-time contribution or send small recurring donations. Fundraise with your friends and family over social media for holidays, birthdays, and other big events.
Legacy Donor Program:
To build a foundation that can support our future, our board of directors created a Legacy Donor Program. Legacy Donors are individuals who are willing to donate $1,000 per year for at least five years to Seager Clinic. As a Legacy Donor, you can choose where your donation goes, including our diabetes clinic, dental clinic, eye health, general clinic, mental health medication clinic, or the area of greatest need.
You will also receive an end-of-the-year report to show how the finances were used. Legacy Donors also receive special benefits such as a hand-written thank you note from our clinic, recognition on our website, and a special invitation to our annual breakfast and service project for Legacy Donors and other major philanthropists.
Make a Difference with Seager Memorial Clinic!
Our mission wouldn't be possible without the help of our incredible donors! It takes all of us to make a difference in the lives of our patients. If you would like more insight into our clinic, we would love to schedule a tour and show you how your donations are making an impact. Even the smallest donations make a difference to our clinic and patients. Help us be the safety net for our community's most vulnerable by supporting Seager Memorial Clinic.
For more information about our services or how to help, donate, and volunteer, visit our website and sign up to volunteer at our clinic today! Follow us on our social media platforms and check out our website for upcoming events!