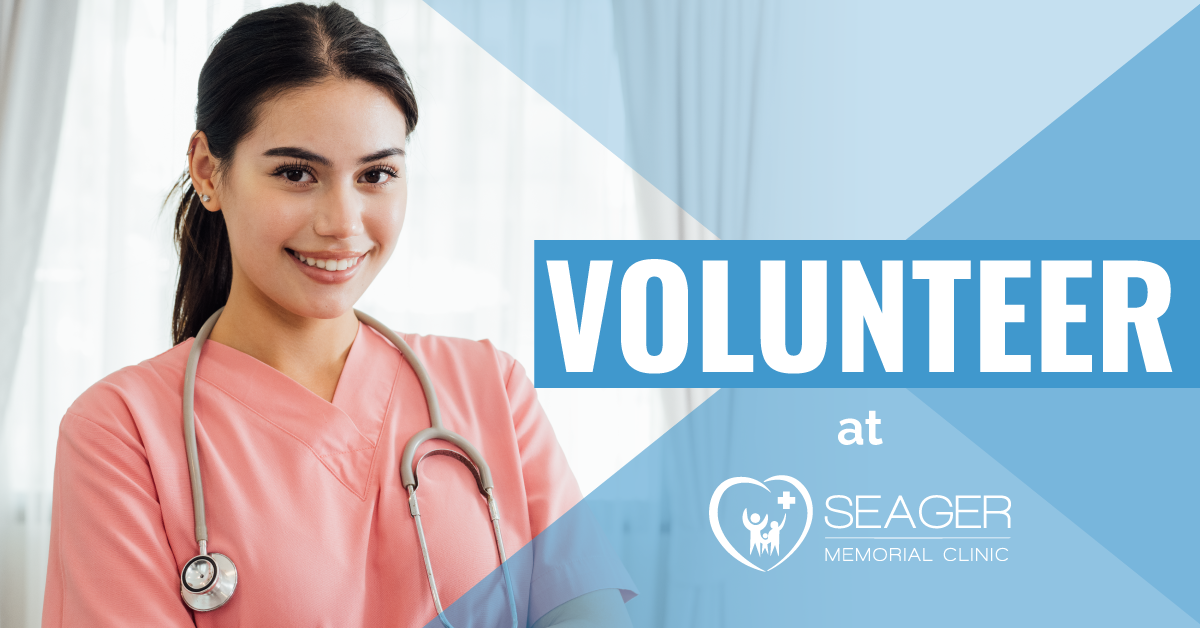 Volunteer At Seager Memorial Clinic!
Seager Memorial Clinic is a non-profit organization focused on helping members of our community overcome financial, social, mental health, and other significant barriers when getting quality health care. Our clinic is run entirely by volunteers. We have built a clinic that provides free, easy-access, and non-judgmental health care to the underprivileged.
We are looking for people with various skill sets to maintain our friendly environment and serve as many patients as possible. Our medical and nonmedical volunteer roles include a variety of responsibilities.
Current Volunteer Positions Available:
Medical Positions include:
Registered Nurses
Medical Assistants
Nurse Practitioners
Phlebotomists
Pharmacists
Pharmacy Technicians
Physicians
Physician Assistants
Dentists
All medical volunteers work to help examine our patients, provide suitable treatment, refer to other local medical professionals (if necessary), and offer free medications (after patients have been seen by a provider).
Non-Medical Positions available:
Spanish interpreters
Front Desk Volunteers who work with the medical assistants and registered nurses to pull and update patients' charts and provide answers to questions.
Graphic designers who create visual aids to communicate with patients and potential volunteers.
Grant writers who help research, draft, and submit proposals for grant funding.
If you have an expired volunteer license, we can work with you to obtain a volunteer license. We need medical and nonmedical volunteers to help make a difference for every person who enters our clinic. No job is too small and can make all the difference in people's lives.
Get Involved in Your Community:
We work to treat an extensive range of conditions, especially chronic ones, so our patients can go on to lead long and healthy lives. Many illnesses can compound over time and cause significant issues if left untreated. As family, friends, and neighbors, we are responsible for lifting and supporting those in our community who do not have access to the same resources as we do.
One of our past patients describes their time at Seager Clinic by saying, "I have always had difficulty finding a provider in which I am comfortable with. When I began going to Seager Memorial Clinic, it was different. They treat people like people want to be treated and they make you feel like your issue is important to them and that they want to do everything in their power to help you."
Studies have shown that volunteering will give you a greater sense of purpose and help you enhance other areas of your life. Lori McCabe, a Seager Clinic volunteer, stated, "I have volunteered here now for a few months and I have personally seen what a blessing and help this clinic is to the patients who come here. Many of them are so kind and gracious towards us here. A man came through today and said, 'I am blessed.' I know it helps the patients and it also is very rewarding for me to volunteer here."
When facing physical and mental health challenges on top of other barriers, it's not uncommon to feel isolated from your community. By providing free healthcare to those most in need, we hope to provide them with a sense of community and a support network. The most important thing they need to know is that they are not alone and have people who can help them. There is a place for everyone at Seager Clinic! We need all kinds of skill sets to accomplish our mission of improving the lives of the underserved. For more information about our services or how to help, donate, and volunteer, visit our website and sign up to volunteer at our clinic today! Follow us on our social media platforms and check out our website for upcoming events!