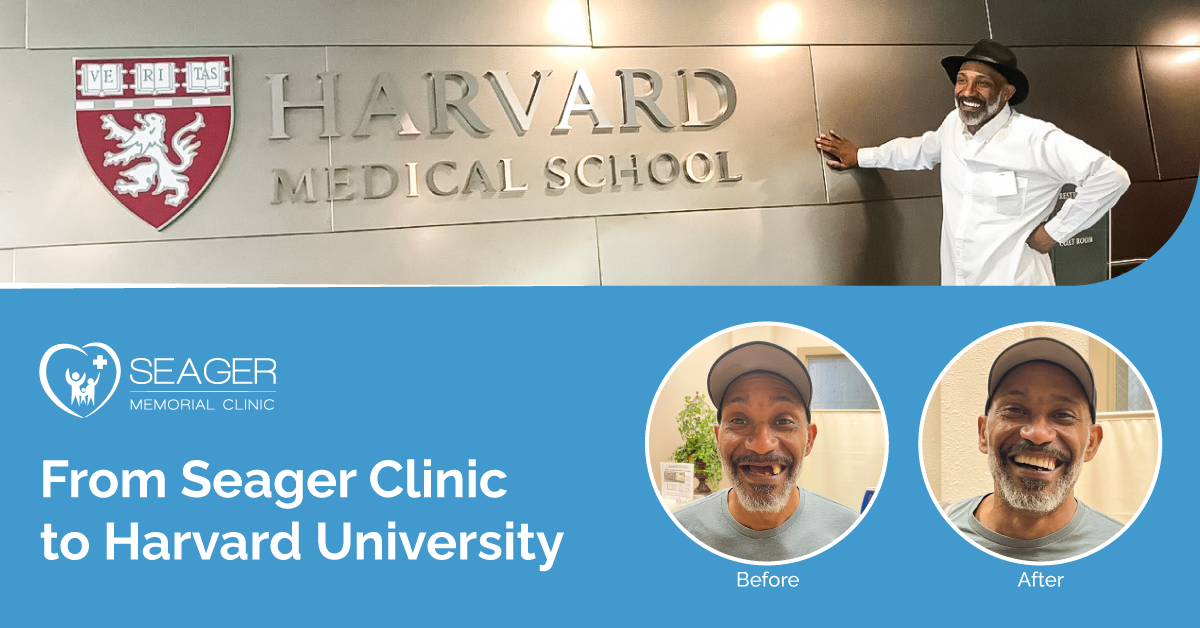 From Seager Clinic to Harvard University
Here at Seager Clinic, our mission is to improve our patient's quality of life. Access to high-quality healthcare opens the door to amazing opportunities and change. Today, we are going to share David's story and how his experience with Seager Clinic's free dental care helped improve his life.
David's Story:
Seven years ago, David was going through a difficult time in his life. He endured long periods of homelessness while also battling a severe methamphetamine addiction. While going through these challenges, David eventually became connected to Bishop Thompson and President Marchant from the local Church of Jesus Christ of Latter-Day Saints and was able to begin his journey of building a better life. Bishop Thompson and President Marchant inspired him to return to school to receive his high school diploma and further his education at Utah Valley University.
David thrived while attending Utah Valley University. He worked hard to succeed in his classes and strived to make a difference in his community. He helped change several of his fellow classmates' lives by founding the Underrepresented Students in Science (U-SIS) initiative at UVU. This program now spans several campuses, including Yale and Harvard. He made the most of his time at UVU and also received the following accolades:
Recipient of the National Science Foundation (NSF) full S-STEM Academic Scholarship
Harvard Medical School/MIT SHURP Fellowship program participant summer 2023
Recipient: Mayo Clinic Summer Fellowship Discipline Immunology 2022
American Society of Microbiology (ASM) Microbe Achievement Award Recipient
Utah Valley University Honors Program
Dean's List 2019 – 2023
Dean's Merit Scholarship (College of Science) 2021-2022
Nominated for Wolverine of the Week: Fall 2019, Spring 2020, Fall 2021
Awarded Wolverine of the Week Spring 2021
Finalist Massachusetts Institute of Technology (MIT) Undergraduate Fellowship 2021
UVU Board of Trustees Research Scholarship Award 2021 (Scientific Research Grant)
Student Instructor Physiology Fall 2021
Treasurer Microbiology Club Fall 2021, Spring 2022
Founder of UVU Underrepresented Students in Science (USIS) Mentorship Program 2022
Supplemental Instruction Leader UVU Spring 2022 (Biology)
Presenter The Harvard Medical School (HMS) Microbiology Retreat 2023
(ASO Disruption of 3′ UTR Structure of PHB1)
Presenter The Leadership Alliance (LANS) Summer Research Early Identification (SR EIP) Annual Research Conference 2023
(ASO Disruption of 3′ UTR Structure of PHB1)
Presenter Harvard Medical School – Dr. Silvi Ruskin Laboratory presentation
(4-Methylamphetamine Effects on the Production of Transforming Growth Factor-beta (TGF-)
Selected as undergraduate to present at American Society of Microbiology (ASM) Microbe 2022 (4-Methylamphetamine Effects on the production of (TGF-)
Presenter Annual Biomedical Research Conference for Minoritized Scientists (ABRCMS) 2021
(4-Methylamphetamine Effects on the Production of (TGF-)
Presenter Utah Conference on Undergraduate Research (UCUR) 2021
Seager Clinic Experience:
As David worked diligently on his education, he began to prepare for his next life-changing journey: Harvard Medical School. His friend, President Marchant, connected David to some of our amazing volunteers at Seager Memorial Clinic. We were able to help him by providing free dental care and reversing some of the effects caused by past drug use. His "transformative experience" at our clinic supported him as he got ready to leave for one of the most prestigious medical schools in the world.
David has since been thriving at Harvard Medical School with his new smile. He describes his experience with Seager Memorial Clinic by saying, "Thanks to the clinic's support, I have been able to smile confidently as I greeted these esteemed professionals and researchers. The gift of having a radiant smile means more than words can express. It symbolizes not only a physical transformation but also an emotional and spiritual triumph over my past struggles. I am forever grateful to the clinic for the positive impact they have had on my life, making it possible for me to shine brightly in my academic and professional pursuits."
David is now changing lives by sharing his medical research with individuals from all across the country. He celebrated six years of sobriety earlier this year and will continue to change lives with his determination. We are honored to have had the chance to help him along his journey by giving him a new smile.
At Seager Clinic, we provide free dental care for adults so that you can get your life on a better track. For more information about our services or how to help, donate, and volunteer, visit our website and sign up to volunteer at our clinic today! Follow us on our social media platforms and check out our website for upcoming events!