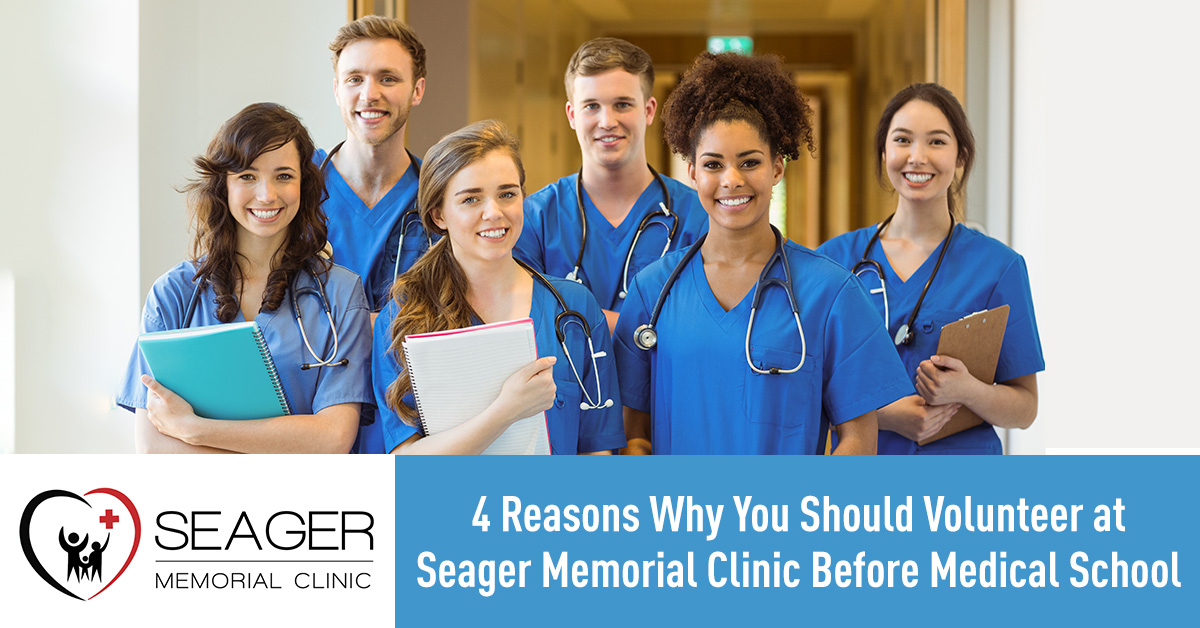 4 Reasons Why You Should Volunteer at Seager Memorial Clinic Before Medical School
Building up your resume for medical school applications can be a daunting task. Here at Seager Memorial Clinic, we are prepared to help boost you as an applicant by providing a volunteer experience that will give you deep involvement in patient care and consistent participation in various medical fields. Here are the four main reasons why volunteering at Seager Memorial Clinic will be the best pre-medical volunteer opportunity for you.
Get Involved in Direct Patient Care
Volunteering at Seager Memorial Clinic gives you the opportunity to gain distinct experience by providing direct patient care. Pre-medical volunteers assist with taking vitals, testing glucose levels, rooming patients, administering COVID-19 tests, and processing A1C and urinalysis samples. You can also assist professional volunteer providers with more advanced medical procedures and expand your knowledge further. Consistent involvement in various medical experiences, such as those found at Seager Clinic, will broaden your understanding and improve your resume as a medical school applicant.
Also read: GET INVOLVED IN YOUR COMMUNITY AS PART OF YOUR NEW YEAR'S RESOLUTIONS
Learn About Technical Work and Frontline Communication
Pre-medical volunteers also assist with more technical work and frontline communication with patients. You can help manage front desk responsibilities by pulling patient paper charts, monitoring patients that walk in and helping them feel comfortable, processing referrals, answering patients' questions, sanitizing exam rooms and equipment, and entering clinic data. Performing these smaller, more technical tasks shows that you have exposure to real-life medical situations and can perform well in all your responsibilities.
Connect with Several Medical Professionals
Finding a location that lets you meet with different physicians can take time and effort. However, volunteering at Seager Memorial Clinic provides you with the opportunity to work with and shadow a variety of the best medical professionals in the area. Interacting with these healthcare providers offers you a space to ask questions, get hands-on experience with various medical services, build your resume with volunteer hours, gather letters of recommendation, and an opportunity to expand your network. Our physicians give their time and expertise to serve the underserved and help you achieve your professional goals.
Also read: FIND ACCESS TO HIGH-QUALITY, FREE HEALTH SERVICES AT SEAGER MEMORIAL CLINIC
We Serve a Unique Population
Seager Memorial Clinic is truly a unique place to volunteer because we serve a unique community of clientele with our free medical services. Our patient population often includes individuals who are homeless, transitioning out of jail, uninsured, underinsured, or going through a difficult time in their life. Our mission is to provide a large variety of medical services to those most in need, and you have the opportunity to be a part of achieving that goal.
How Do I Get Started?
If you would like to volunteer at Seager Memorial Clinic or have any questions regarding the responsibilities of a volunteer, visit https://seagerclinic.org/volunteer/ or call (801) 528-2396. You can also work with our Clinic Manager to schedule a time to shadow our physicians and providers or to discuss which position will best utilize your skill set and interests.