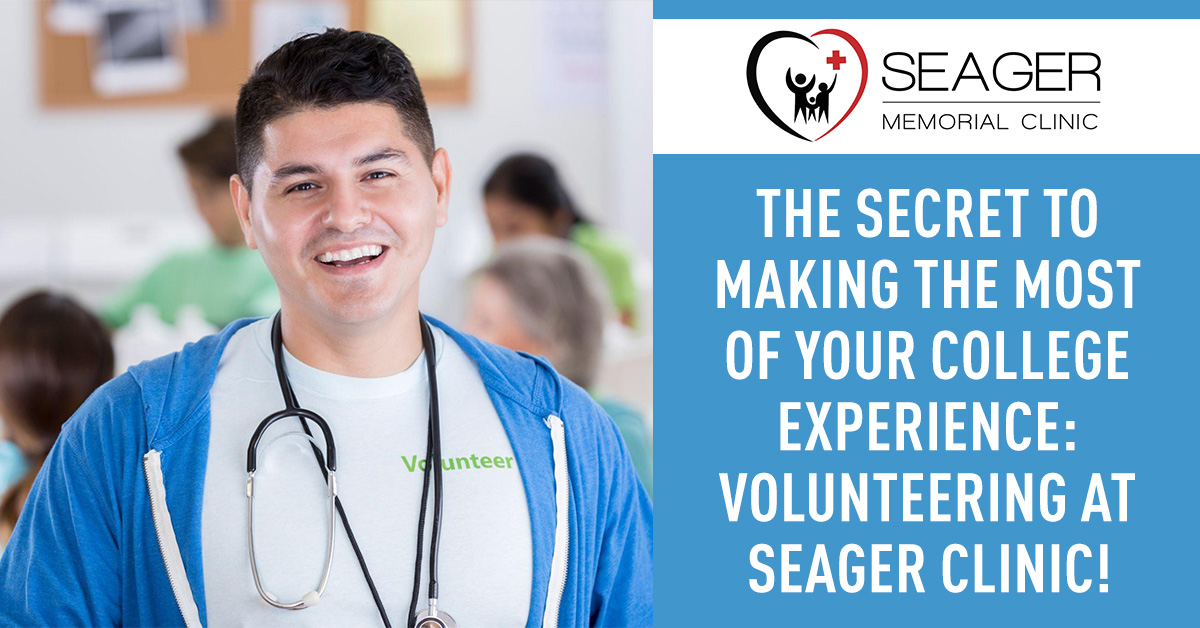 The Secret to Making the Most of Your College Experience: Volunteering at Seager Clinic!
It's no secret that college students are overly busy. Balancing schoolwork, work duties, social commitments, and other responsibilities can be exhausting. One of the best actions you can take to balance all the aspects of your life is choosing to volunteer at Seager Memorial Clinic. Regularly volunteering comes with various benefits, including developing leadership skills, improving mental health, and expanding your social network. Keep reading to see why taking the time to volunteer can bring greater steadiness to your busy schedule.
Expand Your Network:
First and foremost, volunteering can help you meet new people and expand your network. At Seager Clinic, there are various volunteer opportunities for college students, whether they are interested in the medical field or not. Volunteering is a great way to meet colleagues going through the same experiences as you. You'll get the opportunity to work side by side with some of the best medical professionals in the area and foster good connections. The volunteer professionals you work with want to see you succeed and are excellent sources for letters of recommendation to help you find additional opportunities. It will boost your resume for job applications, graduate school, and scholarships. This will also improve your chances of getting hired or accepted to the positions you apply for.
Broaden Your Perspective:
A large portion of college life revolves around set schedules. With classes and work occupying a significant part of that schedule, it's easy to fall into the same social circles. One of the greatest benefits of volunteering is that it takes people from various backgrounds and ties them together as they work toward a common goal. At Seager Clinic, our staff, volunteers, and patients come from diverse backgrounds. This includes individuals who speak Spanish as their first language. Working with different people gives you insight into perspectives, opinions, and ways of life that may differ from your own. It will help you become more mindful and empathetic as an individual and future professional.
Build Your Sense of Purpose:
Lastly, volunteering at Seager Clinic can provide you with a greater sense of purpose. It's easy to get stuck in all the responsibilities that come with the life of a college student, but volunteering can help you get out of the rut of everyday life by being a part of something bigger than yourself. A recent study showcased that individuals who regularly participated in volunteer work experienced an 8.5% increase in mental health and a 4.3% decrease in signs of depression. The same study also found a 9% increase in their physical health.
Volunteering is a sacrifice; it takes time, effort, and commitment. However, it is one of the most productive ways to help yourself improve and make a difference for those who need it most. Volunteering at Seager Clinic can help you resonate with our vision to provide free healthcare to the underserved, and that will allow you to build on your skills. If you are interested in volunteering at Seager Clinic, please visit https://seagerclinic.org/volunteer
Bonus Read: 4 REASONS WHY YOU SHOULD VOLUNTEER AT SEAGER MEMORIAL CLINIC BEFORE MEDICAL SCHOOL
GET INVOLVED IN YOUR COMMUNITY AS PART OF YOUR NEW YEAR'S RESOLUTIONS
FIND ACCESS TO HIGH-QUALITY, FREE HEALTH SERVICES AT SEAGER MEMORIAL CLINIC